Dave and Wanda from USA, July 2019
One of the best vacations we have had! Esther and Warren were fantastic to work with, providing quick and thorough responses to all questions. They were especially helpful in helping us narrow down which towns and accommodations to select, minimizing the number of location changes. The accommodations were fantastic, especially Nithbank Country Estate in Thornhill. The house was exceptional and our room and view was one of the best we have ever had! Esther made recommendations for places to eat along the way and in the evenings back in town. We especially enjoyed that she took time to bike with us to the coast on our last day. Warren developed the routes for us per the mileage we requested, which provided lots of great scenic views of the countryside, without running into a lot of tourists. The people we ran into were very friendly and provided us with a much better appreciation of Scotland!
Facebook Review
Caragh and Ed from Australia, July 2019
We had a wonderful self guided cycling tour with Esther and Warren in July. We were looking for at cycling to about 60 miles a day and Galloway Cycling adapted their routes to fit our criteria. The great thing about Esther and Warren as they provide a personal service; Esther responding quickly via email, answering any query, and Warren providing the routes and bikes. They are enthusiastic about what they do and that love for their region seeps through in the conversations. With that love, they passed on tips and experiences you would not have found alone. We loved the acceptance of our love for cycling and the joy both felt in sharing Dumfries and Galloway and will definitely return. Words cannot sum up our wonderful experience!
Facebook Review
Pippa and John from UK, July 2019
We only had four days, but absolutely bespoke for us, so that we didn't have to think how to get from A to B - it was all laid on and arrangements for parking our car too. The scenery was stunning and we had good weather. I would recommend this company to anyone who likes beautiful empty country, good B&Bs ( with baths which is essential!) recommendations for what to eat and where and what to see. Kirkcudbright was so interesting. Warren and Esther are doing a great job and one day our daughter hopes to cycle with them too.
Google Review
Karen and friends from Denmark, June/July 2019
We have been on many cycling holidays in France, Italy etc. and this one was without a doubt the best organized. Esther and Warren followed us all the way, with their love and care for us and our vacation in Scotland. Nothing could have been better and we would love to go back.
Google Review
Karen and her husband and friends arranged their holidays with us via Merlot Tours, Denmark
Liz and Guy from Australia, June/July 2019
Well we made it, but with great regret that it had ended.
We knew what to expect this year, but the reality exceeded expectations many times over. Each day had something new and wonderful to offer. The route was just right, The gradients were pleasant and distances perfect. The accommodation was spot on. Unfortunately the cafes had too many cakes for a sensible waist line!
Your organisation was methodical and cheerful.
So thank you both again for a fantastic experience. If only we could bring our bike group over here!
email
Cynthia & Gary from USA, May 2019
Best cycling holiday ever! My husband and I booked a 7 day trip with Galloway Cycling Holidays and LOVED it. Esther and Warren are fantastic hosts, organizers and tour guides, and this region has amazingly quiet roads for cycling. Esther's emails ahead of time were warm, helpful and encouraging - and very patient with all of my questions and requests. As promised, we rode on small quiet country roads with almost no traffic and lovely scenery, rolling hills, lots of sheep (& Belties!), lush green pastures, beautiful forests and an amazing coast. We tried out both the hybrid touring bikes, which Warren took lots of time and care to get fitted just right AND the super fun gravel bikes for some fun off-road riding on gravel paths and tracks. Warren guided us one day on a gravel bike tour, out to the coast for coffee and cakes on the beach with Esther (!!) and then into the beautiful woods on a fun loop ride. Esther joined us riding another day and regaled us with stories of all the sights we passed and - of course - a stop at the best cafe of the day for coffee and cakes. :) We had fantastic accommodations along the way, usually with wonderful views out the windows. We were also totally spoiled by having our baggage transferred, and getting a chance to review the day's routes almost every day with Warren before hand. When we wanted to make a day longer it was easy to do thanks to the detailed maps and gps routes. And the routes Esther and Warren have put together are absolutely fantastic, with minimal time on busier roads if you wish (this was our biggest "ask" and we got it!). Thank you Esther and Warren for a holiday we'll always remember - hope we can come back someday, and will recommend to all our cycling friends! Cheers, Cynthia & Gary
Google Review
Margaret from Wales (UK), May 2019
[talking about Margaret's photos] - .., there's a flora bundle, a castles bundle... But it IS such a photogenic ride !
from Facebook
photos in this selection copyright ©Margaret Jones- @CardiffCycleCity
May & Dave from USA, May 2019
This vacation checked every box! We were able to explore a lovely part of the Scottish countryside with great rides mapped out to coincide with our personal interests. We got to explore a quiet part of the country with unique history and unbelievably friendly friendly folks everywhere we went. We can't say enough wonderful things about Esther and Warren! Their knowledge of cycling and the area along with incredible hospitality really made each day a pleasure! They had terrific bikes ready for us when we arrived, the routing was easy to follow and they had a Garmin already set up with the routes in case there were any concerns. They personally showed us around, had us over for a lovely barbecue and cycled with us as well. This was a fun and easy vacation; we highly recommend it!

Google Review
Marc from USA, August 2018
I recently returned from a week of cycling in Galloway and Dumfries (Scotland) with Galloway Cycling Holidays. Let me preface my review by saying that I have been on many, many cycling trips with various companies since 1991. This past week of cycling ranks as the most amazing cycling week I have had to date. Warren and Esther selected fantastic accommodations....I stayed in two exceptional B+Bs which were spacious and within walking distance of great restaurants in quaint towns.......the owners were friendly and provided made-to-order breakfasts. I was provided a state-of-the-art Scott Carbon bicycle geared for any terrain. After a trial ride to assess my abilities, I was taken on a series of amazing daily rides. The scenery was breathtaking, roads/motorists were friendly and the rides challenged me (per my request). Ester and Warren are both accomplished riders with extensive knowledge of bike maintenance.....so I always felt like I was in good hands. Frankly, they spoiled me with the rides, education and stops to explain historic sites, points of interest and local folklore. The highlight was a riding day which included five ferries and more fun riding than I could imagine. They opened their home to me, showed their garden (per my request) and shared their extensive knowledge of all weather equipment, et. So if you are looking for an amazing cycling trip with a couple who will pamper you and take you on fantastic rides.....this is the company.
Google Review
Rebecca from Canada, July 2018
I booked a 3-day solo riding adventure with Galloway Cycling Holidays mid-July 2018 and I had no idea just how amazing it would be! Even before I arrived, Esther and Warren were happy to provide logistical information on getting there, provide options for my routes, and they were so excited to share their little piece of heaven with me! They planned everything, and made it so easy - from providing the bike, the routes and GPS, to booking accommodations, highlighting the good places to stop for food, art, history, and architecture along the way. Esther herself is an artist, which I didn't know until I was leaving, so make sure to buy some of her beautiful cards! From the moment I arrived, they were warm and welcoming, funny and charming, and so kind! One of my favourite parts of my vacation was meeting them and chatting with them! They picked me up from the train when I arrived and brought me to their home to get a bike fitted and set up. All I did was show up with my own shoes and pedals. They transferred my luggage every day, and brought me to the bus where I quite sadly departed when it was all over! My tour took me from Thornhill to New Galloway, Gatehouse of Fleet, Kirkcudbright, and finally, Kippford. This area of Scotland is for nature lovers and cycling enthusiasts… Rampant wild raspberries and purple wildflowers grow along quiet, winding roads that meander through the hills and along to the coast. Sheep and cows are often your only company as you cycle through the fields. There are so many beautiful trees, old stone fences, streams, and moss everywhere. Quaint harbours, fast tides, fresh seafood, and beaches entirely composed of cockleshells await at the coast! And the air… The air is so fresh, cool, and crisp. The routes take you through little villages with cute cafes offering fresh baked scones and cakes, or homemade soups and fresh mussels in cream sauce while you watch the tide come in. Local art, art galleries, and shops are also must-stops! You may also pass through Kier Mill, which was home of Kirkpatrick MacMillan, the inventor of the bicycle, and you can see where he worked as a blacksmith and his grave is here also. He rode from this area all the way to Glasgow, on the roads back then, on his hobby-horse/bike, which had no shocks! Total badass! And definitely interesting to see and learn about. In this place, there are more castles than there are tourists. Everyone waves and often you find yourself chatting with a local about this or that. The scenery and ambiance makes for a very special and very peaceful vacation. Without hesitation, I would do this again! Best way to explore a new place in my opinion! And I would very highly recommend Galloway Cycling Holidays to anyone and everyone looking to have an active vacation in a beautiful, remote place! Cheers and thanks for the read! 😊
Google Review
Belinda, Giselle and Nadia - NYC+ Basel, July 2018
Truly the most brilliant cycling holiday. Gorgeous riding country. Esther and Warren did an incredible job of mapping a lovely route for us. We stayed in fantastic places. Really wonderful experience - thank you Esther and Warren!
Google Review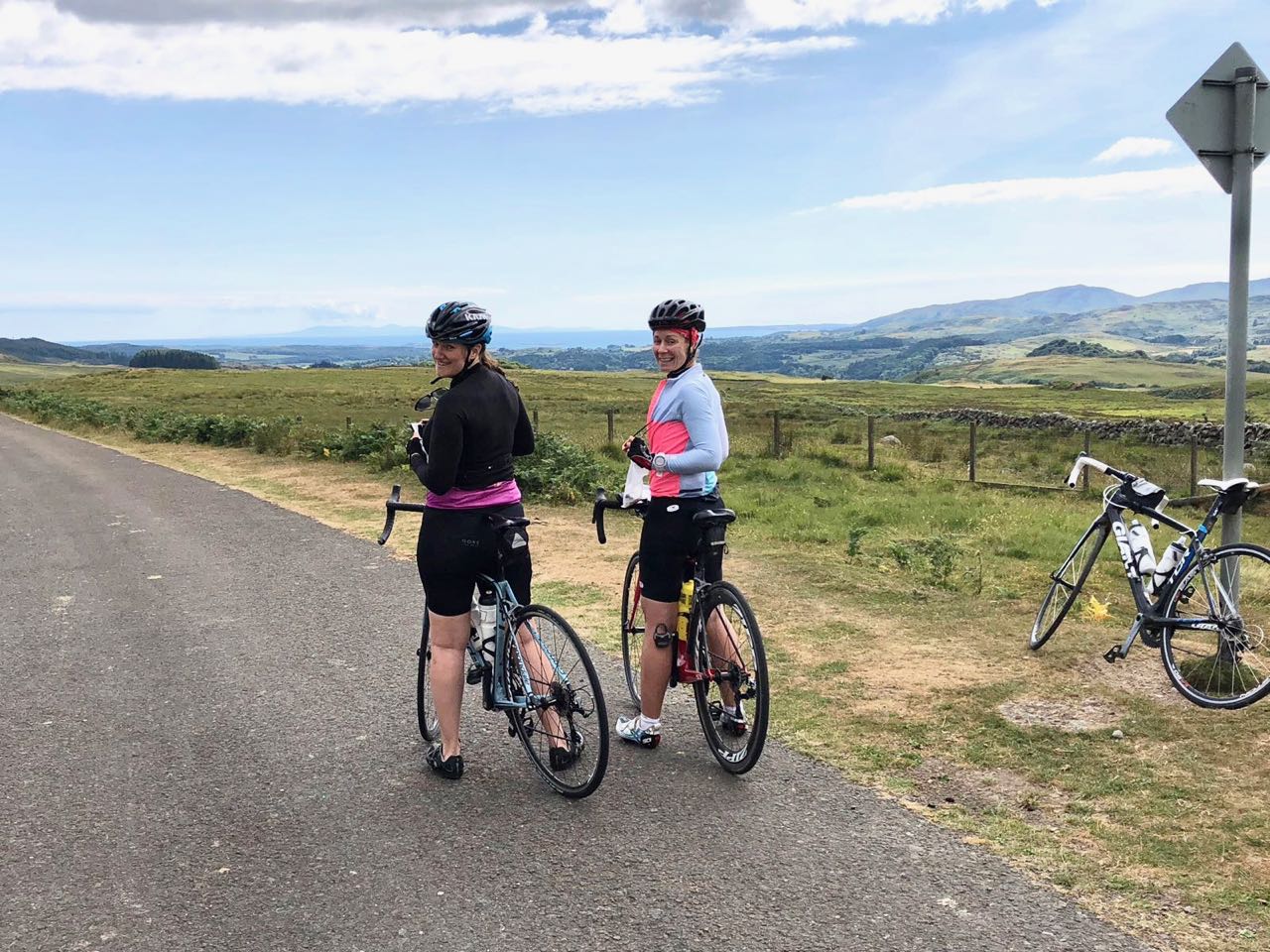 Liz and Guy from Australia, June/July 2018
"Your description of today's ride was inaccurate. The views from the top were super spectacular not just good! Red kites were also a highlight. Gatehouse looks lovely and the cake at the Mill is terrific. Cheers and thanks"
from an email
Galloway Cycling Holidays is run by Esther and Warren, a very switched on and friendly couple.
From the moment we arrived they made us feel special and extremely welcome. We loved our bikes which Warren took great care to set up for us and which he maintained throughout the week.
The planned tour, designed specifically for us, suited our fitness levels perfectly. It covered an amazingly scenic area, a real hidden gem of Scotland( and we have done many other tours of Scotland elsewhere) . The route covered a mixture of seascapes, hill tracks, forests and valleys and we passed many points of interest about which Esther and Warren were very knowledgeable.
The little towns and villages were quaint and the chosen B and Bs were a good range of styles. Esther and Warren recommended lots of terrific coffee shops and interesting lunch venues.
We are already contemplating next year's tour with Galloway Cycling Holidays.
Review on Facebook
Ally + Andrew from Florida, June 2018
I really cannot say enough about what a great time we had cycling in the Dumfries/Galloway area with Galloway Cycling Holidays. We are a couple of experienced cyclists from Florida who live to explore new places on our bikes when we can get away from work. We typically do 2 self-contained bike tours a year, but this was our first overseas cycling trip. We joined a Galloway Cycling Holidays July 2018 tour at the invitation of a friend, on a whim, not sure what to expect. Our Galloway Cycling Holidays experience exceeded our expectations in every way. From the rental bikes, to the routes, the accommodations, our tour leaders' knowledge of local geography and history, and the superb weather they arranged for us, Warren and Esther did a stellar job! They "get it." They not only know the local cycling terrain, they know what cyclists want and need. Whether you prefer quiet rural roads, gravel single track, gnarly off-road, long, challenging climbs, a nice cafe stop for tea and a millionaire, or a little of everything, you will not be disappointed. They truly love Dumfries/Galloway, and want you to leave feeling that you have had a once in-a-lifetime cycling experience. And, we did.
Google Review
Patrick + 9 from Seattle - June 2018
I was recently part of a week-long bike tour led and organized by Warren and Esther. The hub of our tour was Kirkcudbright, a lovely, picturesque port town on the Southern tip of Scotland. It was an exhilarating experience. First, southern Scotland far exceeded my expectations, and would seem to be one of Scotland's best kept secrets. It is ignored by most tourist books, and its low-density tourist population is one of its many charms. The beautiful countryside, its seaside towns and villages, the warmly welcoming locals, and low trafficked roads all served to make my recent visit truly extraordinary. I subsequently visited the highlands and the Hebrides, and much to my surprise, southern Scotland is the region I'd most readily return to. Beyond the beauty and wonder of the area, I owe much of my trip's pleasure to Warren and Ester's knowledgeable guidance and warm, gracious hosting. I can't imagine better tour organizers!!! STRONGLY RECOMMENDED.
Google Review
Phyllis + 9 from Seattle - June 2018
What really made our week of bike touring in southwest Scotland were our hosts and guides, Warren and Esther. Their love of the Dumfries and Galloway region for bicycling, their in-depth knowledge of local culture and history (as well as where to find the best pubs and bakeries!)… and their sense of humor and personal attention to details resulted in a truly enjoyable experience. They led us through fantastic vistas on quiet country roads, castles, bookstores, and abbeys. Our tour was a hub-style week (where you get to unpack once for the entire week) at a charming self-catering inn, The Baytree House in Kirkcudbright. Galloway Cycling Holidays in this peaceful, uncrowded area of Scotland is a trip we will try to do again.
Google review
Charlie + 9 from Seattle - June 2018
Southwest Scotland is an under discovered Mecca of quiet, scenic back country roads for bicycling. Our group signed up with Galloway Cycling Holidays. What a great idea that was! Esther & Warren (co-owners) took fabulous care of our group while taking us to amazing picturesque and historic sights. They even offer electric assist bicycles to level the hills for some and kept our group closer together. Their stories of their four year bicycling trip around the world kept us entertained. You might just find that the highlight of your trip is meeting Ester and Warren. It was for me.
Google review
Ben + 9 from Seattle - June 2018
Just spent a delightful week of cycling, eating and drinking on a Galloway Cycling Holiday tour. Our guides, Warren and Ester, were knowledgeable and fun and they obviously love this area of SW Scotland. And what's not to love, beautiful vistas, historic castles, friendly locals, untrafficed roads, and seaside villages made each day a unique ride The town of Kirkcudbright is charming and well furnished with good restaurants and pubs. A week was not enough there.
Google review
Jerry + 10 from Texas + California - May, June 2018
The ten members of Team NV1 are having a wonderful adventure under the guidance, leadership, planning and logistical support of the GCH team. We all agree that this the best cycling experience ever!
Facebook review
from Jerry - on Google Review
When I visited the South West of Scotland in 2017 I posted a review (now below the fold) in which I raved about the cycling here and said that I planned to return in 2018 and bring friends. That happened and you can read many of their reviews (most from Seattle) on this site. My wife, two friends and I came in mid-May and rode Galloway Cycling Holidays' South Coast 200 route for six days from the Mull of Galloway to Gretna Green. We had a marvelous time on the quiet and beautiful roads and lanes with wonderful views and experiences. The local people are so friendly, helpful and welcoming. GCH transported our luggage from inn to inn and provided helpful maps, cue sheets and information about local points of interest. Then six more friends joined us in the artist village and working harbor of Kirkcudbright (koo coo bree) for another week of riding using it as the hub. Our group of ten had booked the Baytree House (a self-catering B&B) for our lodging and base of operations. During our daily rides we visited castles, forts, abbeys and always stopped for coffee and cake. There was a contest with prizes awarded to the person who spotted the most Belted Galloways during each day's ride. After the first group departed, another batch of ten from Seattle arrived and we repeated the wonderful experiences of the Kirkcudbright Hub week. Comments heard from riders from both groups were along the lines of "Best riding experience I've ever had", "This has spoiled me for my riding experiences back in Austin" to "I've got to come back here and bring friends!" To the last, Warren and Esther, owners of Galloway Cycling Holidays replied, "That can be arranged." =-=-=-=-=-=-=-=-=-=-=-=-=-=-=-=-=-=-=-=-=-=-=-=-=-=-=-=-=-=-=-=-=-=-=-=-=-=-=- (Sept. 2017) I've cycled across the USA and in many other places around the world. This area in the South West of Scotland is a hidden gem on par with or better than any other place that I've explored by bicycle. I did a weekend bike tour with the owners of GCH and was so impressed by what Galloway Cycling Holidays has to offer that we're returning in 2018 and bringing along twenty of our biking friends to explore their South Coast 200 route as well as spending a hubweek based in Kirkcudbright. Warren (GCH Co-Owner) and I rode one 22-mile route in which we had only one overtaking car and one oncoming vehicle in the first eight miles! While we spent three hours on this ride I could easily envision spending a day exploring this route. We passed several Hill Forts (of over 100 in the area), one Castle (of over 90), one Abby (of three) plus Stone Circles and Cup and Ring sites from pre-historic eras. We stopped to visit a picturesque harbor and of course a requisite stop for cake and coffee. In addition to the attractions listed, the area has two palaces, approximately sixty Motte and Bailey fortress ruins and over 100 historical places of interest. I can't wait to do all of these rides and continue my exploration of the area.
Donald + 5 from Clackmannashire - May 2018
Absolutely Fantastic Experience. I along with 5 cycle mad friends booked with Warren and Esther of Galloway Cycling Holidays because we were looking for something 'different'. We were not disappointed. From the point of contact through email's and phone calls to the point of saying cheerio, Warren and Esther were fantastic hosts with a wealth of local and cycle knowledge. They organised our hotel accommodation which was first class and planned and guided us through three different, but equally challenging and scenic cycle routes. They looked after the fast and not so fast within our group which was well appreciated. I could go on and on. Our group had a most memorable weekend in one of the most beautiful parts of the world. We will certainly be back next year.
Google review
Ross - "the Donald Group"
Fantastic holiday with this company from start to finish , it's was very clear our trip was carefully planned out from making sure someone was there to welcome us , giving us wonderful accommodation , kept our group together , well planned out routes
Facebook review
J. from Edinburgh - April 2018
Thank you for great two days, your patience, encouragement and great great routes. [...]
J.
BOB from Florida - June 2017
[...] Sorry it's over, it was great, can't wait to do it again. Looking for riders and friends for next year.
Jane - May 2017
It was a great experience challenging rewarding Thank you...
The directions and maps were great we only went wrong just outside Kirkubright and missed a turn around Townhead and on the last day missed part of the no 7 route before Annan, so we missed the right turn and stayed on the road.
Accommodation was all well organised, the Steam packet Inn was the least favourite, old fashioned / dirty and not so welcoming ( however not always much to chose from) , but all others great especially Kirkcudbright.
Drop off, hospitality and bag moves brilliant
Weather perfect
Highly recommended as a company
Please edit and use as you please, several friends interested already
Jane
Donald and Ross from Clackmannanshire - May 2017
In May 2017
[...]
On the Saturday morning your briefing as to the route we were going to cycle put us in a positive frame of mind. The route was both interesting and scenic despite the miserable weather.
As you knowthe weather brightened up on the Saturday afternoon and right through all day on Sunday. Every route you took us was interesting, safe and was fun. Your knowledge of the beautiful area in which you live is incredible. In the short time we were with you, you were certainly quick in identifying what was of interest and relevant to both my friend and I.
Meeting the other couple who also took part on the cycle weekend was an added bonus we did not expect. They were extremely interesting people and only added further to what was a memorable weekend.
All the best for the future and hopefully we will be back in touch soon to book again with ''Galloway Cycling Holidays' next year.
Regards
Donald and Ross
Niels and Karen Schjørring from Silkeborg, Denmark - July 2016
The roads: We enjoyed to cycle on the small narrow roads. It was peaceful and there were only few cars, and when they appeared, the drives paid attention towards us. The nature was beautiful. Green curved hills, sheep, wild life, Galloway cows, birds (Red kites), and plants. We made many stops to watch the animals, see the plants and to take pictures. We also enjoyed the possibility to take a DEROUTE, when we found something of interest to see on the description or when we had energy and time to take the DEROUTE.
The Description of the Route: It was a very detailed description of the route to follow every day. We had no problem in following it, it was also a big help to have the detailed map of the area, where we were going to pass through. And the introduction to the material the first evening, was also helpful.
Niels and Karen Schjørring, Silkeborg, Denmark July 2016
Britain crowded? Not in Galloway….
It is one of the most enjoyable trips I've ever done, anywhere in the world: a four-day coast to coast across one of Scotland's underrated marvels, on and off road. It involved awesome scenery, an epic pub stop, a gold rush, and high jinks with spades.
Glentrool – it's one of many little-touristed, little-known places here that would be hectic honey pots if they were a few miles south in the English Lakes.
It's astonishing that such fabulously explorable country, just an easy train ride away (from England), gets so few visitors. You'll likely have it all to yourself.
- Rob Ainsley, 'Cycle' magazine, September 2015.
This is not a review of one of our holidays, just a recent view of our area from excerpts in an article by experienced journalist / cyclist Rob Ainsley